Bia 120 Class A Stereo Power Amp
You will be amazed how great your system can sound! Finally!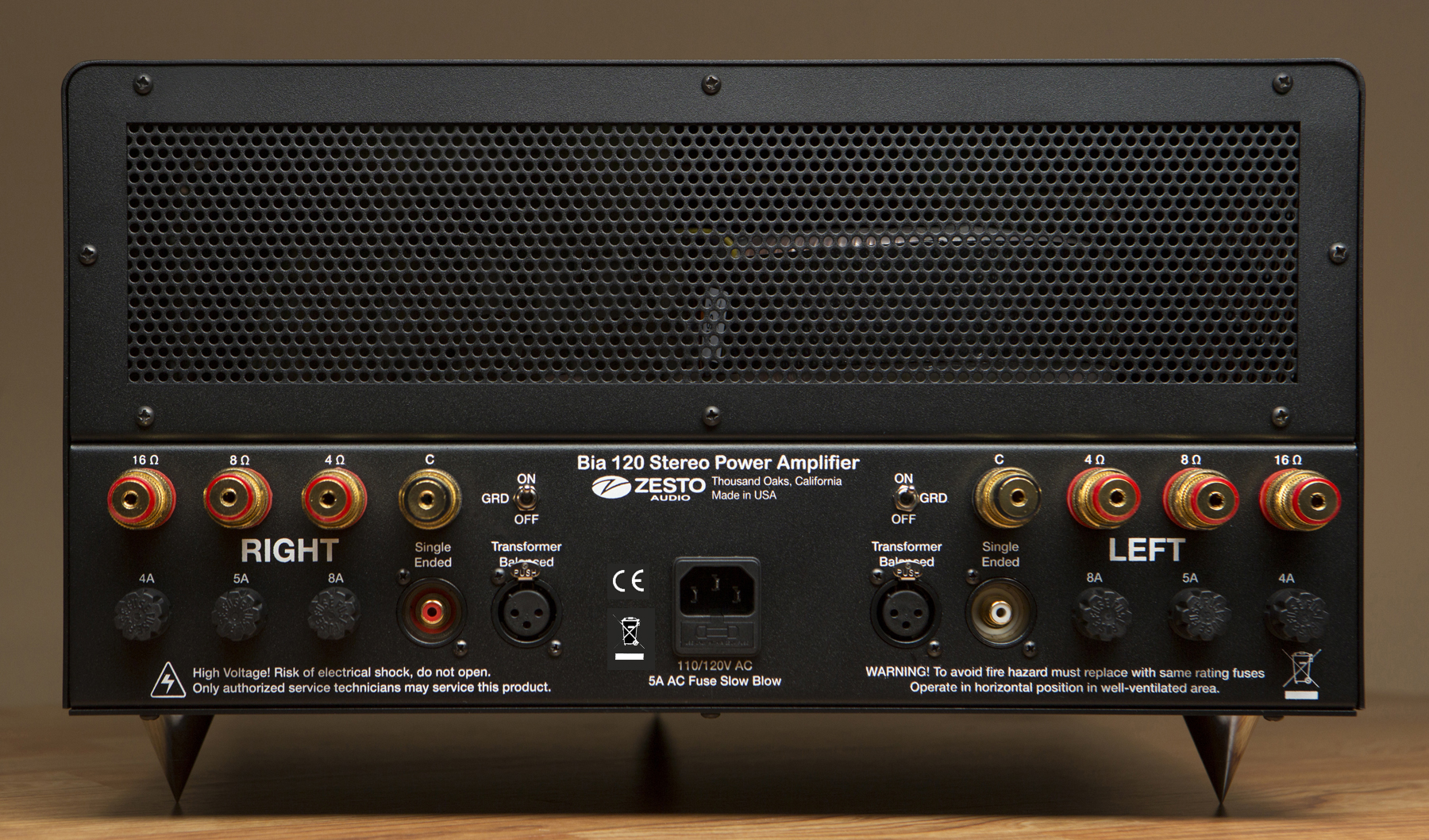 Design Philosophy
With my pro audio background in the recording studio and live concert mixing,
I wanted to build an amp that allowed me to hear music the way I know it should sound.
I wanted it to be easy to use, reliable and with plenty of power to drive the speakers. In short,
I wanted power without compromising the music.
Class A Design
The tubes are always on, so you have power when you need it. Class A is fast and responsive. There is no lag, providing your music more punch, transient response, better dynamic range and transparency.
Circuit Topology
I choose a Class A Ultra-linear, Push-Pull circuit design to deliver the most precise, enjoyable and faithful reproduction possible.
Unsung Hero
The unsung hero of a power amp is its power supply. That's why my design incorporates a custom Toroid power transformer and a choke-based, dual-mono power supply to deliver
all the "slam" you can handle.
Easy to use
With Auto Bias, you need no adjustments. It's safe, consistent and the settings are always perfect so you can enjoy your music.
What is Bia?
In Greek mythology, Bia is the Titan Goddess of force and power.
Key Features
Plenty of power to drive your speakers
Pure Class A power is fast and musical
4, 8 & 16 Ohm taps gives you options for your speaker preference
Dual Mono gives you less cross talk and better stereo imaging
No adjustments with Auto Bias. Its safe, consistent and settings are always perfect
Provides enough gain for most standard preamps and accommodate most speakers
Choice of either Single Ended RCA or Balanced XLR to suit your needs or cable preferences
Transformer balanced XLR input offers true noise rejection and isolation from the preamp
Left and Right ground switches on the XLR balanced inputs to help eliminate ground hums
No Negative Feedback provides for virtually no compression to your music
Custom Toroid provides lower noise with plenty of available power
Global mains power supply can work all over the world
KT120 compatible
Push-Pull circuit design gives you more power
Ultra-Linear circuit design provides lower distortion
Low noise levels allow really dark black quiet musical passages
Non inverting polarity retains the same phase as the input
(so your trumpets blow and don't suck)
Gold pin sockets are more reliable because gold doesn't't oxidize when it heat cycles
Matched quad output tubes retain the stereo balance
It's ready to enjoy with 50 hours of factory burn in on all circuits and vacuum tubes.
Elegantly designed, heavy duty 14 &16 gauge zinc plated steel enclosure
Each unit is hand built "Made in the USA"
The wide frequency response allows you to hear the finest passages in your music.
High quality gold plated RCA, XLR connectors and 5 way binding posts
All fuses are easily accessible
Specifications
Output
Pure Class A
60 Watts per channel
4, 8 and 16 Ohm output taps
8, 5 and 4 Amp Slow blow fuses for outputs
Eight 5 way binding post
Non inverting output polarity
Push-Pull and Ultra-Linear design
Inputs
RCA single ended inputs Left and Right with an impedance of 100K Ohms
Transformer floating XLR balanced inputs Left and Right (pin 2 hot)
with an impedance of 12K Ohms
Independent ground lift switches on left and right balanced inputs
2 Volts RMS input to reach rated output
Detailed Specs
Dual Mono
Auto bias
No negative feedback
Frequency response 20Hz to 50Khz ~ 2db
Total Harmonic Distortion ~ 0.22% at 1W output into 8 Ohms
Gain of 23dB
Noise level > 0.2 mV RMS into 8 Ohms with input shorted
1% metal film resisters throughout
Polypropylene capacitors throughout the audio path
Power
Custom Toroidal power transformer with global mains
Choke based power supply design
120 Volts AC mains
Optional factory installed 220V, 230V, 240V 50/60Hz
Power consumption at rated output 300 Watts
On/Off switch conveniently located on front panel
3 pin IEC power connector with fuse
Active Components
Matched quad set of four (4) KT88's vacuum tubes
Four (4) Gold pin ECC82s (12AU7) vacuum tubes
High quality gold pin ceramic sockets
Other Features
Each unit is made by hand
50 hour factory burn in on all circuits and vacuum tubes
Dimensions 17″ W X 20″ D X 10 " H
Weight 66 lbs. (30Kg)
16 and 14 gauge Zinc plated steel enclosure
Bia 120 Class A Stereo Power Amplifier
Scot Hull – Part-Time Audiophile – March 7th 2015

…."The amplifier has more than enough power to drive the snot out of all but the most absurd loudspeakers. Chances are, you're gonna love the way it sounds. Take that, add a healthy dose of style, and you've got yourself something marvelous."  Read entire review
Bia 120 Stereo Power Amplifier
Paul Seydor – The Absolute Sound – April 7th 2014

"Is the Bia perfect? Well, of course, nothing's perfect, but no matter what I threw at it, I couldn't make it sound anything less than beautiful…" Read entire review
Bia 120 Class A Amplifier
Positive-Feedback Online – November 2013 – Robert H. Levi

"…I have never heard a better amplifier in my reference system, tube or solid-state. It is the best new tube amplifier to reach the market in the last five years priced under $50,000." Read Robert H. Levi's full review in Positive Feedback on line.Read entire review
THE ABSOLUTE SOUND BUYER'S GUIDE TO ELECTRONICS 2015
Download the guide scroll to see Zesto Audio on pages 74, 75 and 76.
Bia 120 Stereo Power Amplifier
Paul Seydor – The Absolute Sound – April 7th 2014

"Is the Bia perfect? Well, of course, nothing's perfect, but no matter what I threw at it, I couldn't make it sound anything less than beautiful…"  Download the guide
Bia 120
Reviewed by Paul Seydor – The Absolute Sound – April 2012
"Its sound is unbelievably smooth and velvety; harmonically rich, full, and vividly textured; marvelously rounded, tactile, and dimensional, with great body and solidity; and completely natural in its musicality and freedom from any of the usual sonic hype, audiophile style."
Watch the videos to learn more about power amps
Hear what our customers have to say about the Bia 120 Stereo Power Amplifier:
"….the amplifier has more than enough power to drive the snot out of all but the most absurd loudspeakers. Chances are, you're gonna love the way it sounds. Take that, add a healthy dose of style, and you've got yourself something marvelous."
"Is the Bia perfect? Well, of course, nothing's perfect, but no matter what I threw at it, I couldn't make it sound anything less than beautiful…"
Sign Up for Our Email Newsletter